Year Four
Mrs Barden is the teacher in our Year Four class. Our PE day is Wednesday.
Class Saint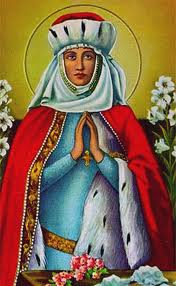 St Kinga. Patron Saint of Poland. Feast day is 24th July.
Kinga became princess when her husband ascended the throne as High Duke of Poland. During her reign, Kinga got involved in charitable works such as visiting the poor and helping the lepers. When her husband died, she sold all her material possessions and gave the money to the poor. She did not want any part in governing the kingdom which was left to her, and decided to become a Poor Clare nun in the monastery at Sandec. She would spend the rest of her life in contemplative prayer and did not allow anyone to refer to her past role as Grand Duchess of Poland.
St Kinga, pray for us.
Autumn Term Curriculum Overview
Maths
Place value: Represent and partition numbers to 1000 and 10,000. Find 1, 10, 100 and 1000 more and less. Number lines to 10,000. Roman numerals. Round to the nearest 10, 100 or 1000.
Addition and Subtraction: Add and subtract 1s, 10s, 100s and 1000s. Add and subtract two 4-digit numbers with and without exchanging.
Measurement: Area
Multiplication and Division: Multiples of 3. Multiply and divide by 6, 9 and 7. 11 and 12 times tables.
English
RE
People: The family of God in scripture
Called: Confirmation is a call to witness
Gift: Advent and Christmas are the Church's seasons of preparing to receive God's gift of love and friendship in Jesus
History
The Viking and Anglo-Saxon struggle for the Kingdom of England
Science
Design and Technology
PE
Computing
Music
PSHE / RSE
God made us with the desire to be loved and to love and to make a difference: each of us has a specific purpose. Every human life is precious from the beginning of life to death