Year Six
Mrs Connolly is the teacher in our Year Six class. Mrs Jessop teaches on Thursdays. Our PE day is Monday.
Class Saint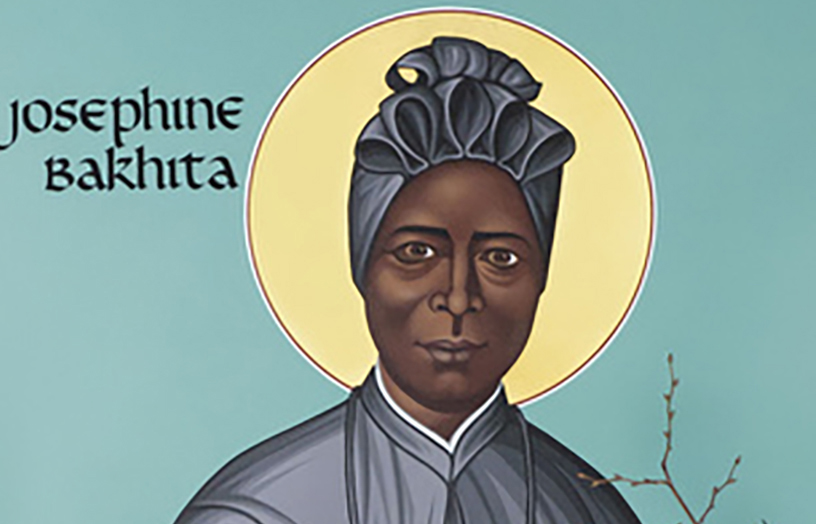 St Josephine Bakhita. The Patron Saint of Sudan. Feast day is 8th February.
Josephine had a happy and prosperous start to life but was kidnapped as a child by slave traders. After 12 years of being bought and sold, she ended up in Italy where she was placed in the custody of the Canossian Sisters of Venice. Whilst there she learnt about God - Josephine said she had always known about God but did not know who He was. Josephine felt called to follow Christ. When the slave owner returned, Josephine refused to leave and the case went to court. It was found that slavery had been outlawed in Sudan before Josephine was born and so she was declared free. She chose to remain with the Sisters often travelling and telling her story to others.
St Josephine Bakhita, pray for us.
Autumn Term Curriculum Overview
Maths
Place value: Numbers to 1,000,000 and 10,000,000. Powers of 10. Compare, order and round any integer. Negative numbers.
Addition, Subtraction, Multiplication and Division: Add and subtract integers. Common factors and multiples. Rules of divisibility. Primes to 100. Square and cube numbers. Multiply 4-digit numbers by 2-digit numbers. Short and long division. Order of operations.
Fractions: Equivalent fractions. Compare and order fractions. Add and subtract fractions and mixed numbers. Multiply and divide fractions. Find fractions of an amount.
Converting Units: Metric and imperial measures.
English
Biographies: Language, grammar and layout features of biographical writing, and using this learning to write biographies on our class Saint, Josephine Bakhita.
Descriptive Writing: Children will be imagining 'The Strangest Shop in the World', and writing a descriptive narrative focussing on describing setting and atmosphere. Adding detail using relative clauses, parenthesis, expanded noun phrases and speech punctuation.
Constructing Arguments: Study the Windrush Generation as part of Black History Month, and use formal linguistic structures to communicate their perspective
Reading inference
RE
Loving: God's love is unconditional and neverending
Vocation and Commitment: The vocation to the priesthood and religious life
Expectations: Advent, a time of joyful expectation of Christmas, the Word becoming a human person, Jesus
History
The achievements of the earliest civilisations - Ancient Egypt, Ancient Greece, early Islamic civilisation
Science
Electricity and Light
Design and Technology
PE
Ball skills and agility working on reaction and response. Dynamic balance on a line and counterbalances with a partner.
Computing
Computing systems and networks- how data is transferred over the internet, from addressing to data packets. They will also discuss how to communicate responsibly online.
Creating Media- webpage creation - what makes a successful website, and use Google Sites to design and evaluate their own website.
Music
Children learn what ballads are, how to identify their features and how to convey different emotions when performing them. Using an animation as inspiration, children carefully select vocabulary to describe the story, before turning them into lyrics by incorporating rhyming words and following the structure of a traditional ballad.
PSHE / RSE
Physically becoming an adult is a natural phase of life. Lots of changes will happen during puberty. Similarities and differences between people arise as they grow and mature. There are many different types of family set up. Self-confidence arises from being loved by God (not status, etc.) The changes that girls and boys will experience during puberty. The need to respect their bodies as a gift from God to be looked after well. The need for appropriate boundaries. How to make good choices that have an impact on their health