Reception
Mrs Swift is the teacher in our Reception class. Mrs Constantinou and Mrs Higgins are the teaching assistants. Our PE day is Tuesday or Thursday.
Class Saint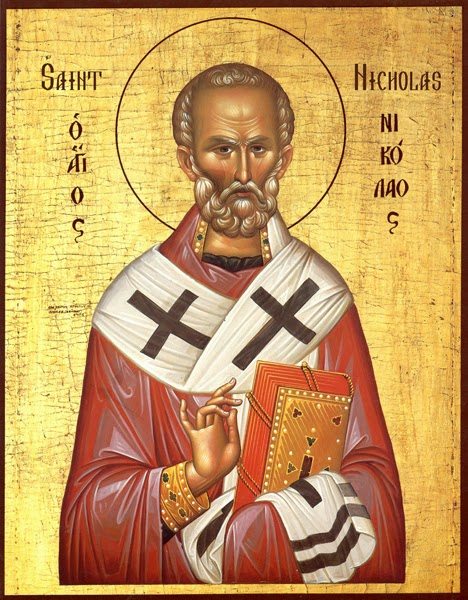 St Nicholas. Patron Saint of Children. Feast day is 6th December.
St Nicholas was a Bishop who devoted himself to caring for the poor and protecting children. He was a defender of truth and justice and during the persecution of Christians, he upheld the divinity of Christ. St Nicholas is an important figure in The Netherlands where, on his feast day, children put out shoes for St Nicholas to fill with gifts. Dutch immigrants took the legend and traditions of St Nicholas with them to the USA along with his nickname Sinterklaas which eventually became Santa Claus and part of the Christmas holiday.
St Nicholas, pray for us
Autumn Term Curriculum Overview
RE
Myself: God knows and loves me and each one by name
Welcome: Baptism: a welcome to God's family
Birthday: Advent: looking forward to Christmas, the birthday of Jesus
Communication and Language
Learn new vocabulary relating to topic work, engage in story times, learn rhymes and songs, recall stories, express points of view, organise their play through voicing their ideas to their peers.
Physical Development
Follow instructions relating to coordination and moving in different ways, practice a static balance, develop a dynamic balance (i.e. jumping and landing), develop skill of a seated balance
Personal, Social and Emotional Development
Get to know each other's names, talk about similarities and differences between ourselves and our families, know the importance of taking turns and sharing resources, road safety
We are all God's children and are special. Our bodies were created by God and are good
Literacy
Learn the corresponding sounds for each letter in the alphabet, start to blend sounds together to develop initial skill of reading, start to segment the sounds in words to develop the skill of writing.
Read Write Inc phonics
Maths
Matching and sorting. Comparing size, mass and capacity. Copy, continue and create simple patterns. Find, subitise, represent and compose 1, 2 and 3. 1 more and 1 less. Identify, name and compare circles and triangles. Find, subitise, represent and compose 4 and 5. Identify and name shapes with 4 sides.
Understanding the World
Remembrance week, value similarities and differences in ourselves and others, discuss lives of people around us and the jobs that people do, compare birthdays and how we celebrate in different ways, compare our families' origin on a world map, celebrate different relevant festivals, investigate the season of Autumn and seasonal changes.
Expressive Arts and Design
Exploring using different materials to create models, sing in a group, develop storylines in their pretend play