Year Five
Mrs Todd is the teacher in our Year Five class. Our PE day is Wednesday.
Class Saint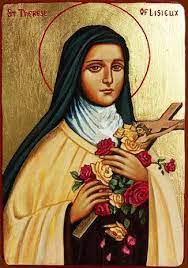 St Therese of Lisieux. Patron Saint of the Missions. Feast day is 1st October.
Therese was known for being selfish, attention-seeking and spoiled. Therese wished to become a nun from the age of 3. When Therese was 13, she had what she called her 'Christmas Conversion.' In an instant, she stopped being selfish, became determined to help others and radiated joy. At the age of 15, Therese entered the monastery and achieved her dream. Therese is most known for her 'Little Way' - she spoke of doing small things with great love. Therese carried a string of beads and used them to count her good deeds. She believed it is not the greatness of what we do that matters, but the love with which we do them.
St Therese, pray for us.
Autumn Term Curriculum Overview
Maths
Place value: Roman numerals. Numbers to 10,000, 100,000 and 1,000,000. Powers of 10. 10, 100, 1000, 10,000 and 100,000 more and less. Partition, compare and order numbers to 1,000,000. Round to the nearest 10, 100 or 1000.
Addition and Subtraction: Add and subtract numbers with more than 4 digits.
Multiplication and Division: Multiples and factors. Prime numbers, Square and cube numbers. Multiply and divide by 10, 100 and 1000. Multiples of 10, 100 and 1000.
Fractions: Equivalent fractions. Convert improper fractions to mixed numbers. Compare and order fractions. Add and subtract fractions.
English
Biographies – revisiting word class and sentence structure and using this learning to write a biography on our class saint.
After this, we will read The Firework Maker's Daughter by Philip Pullman. We will use this fascinating adventure story to study areas of the curriculum such as the impact of vocabulary choices, character development and inference. This will also allow us to learn different genre styles and to understand the features of each style in order to write in them. These include persuasive letters, instructions, newspapers and diary entries throughout which we will be learning new grammar skills and learning how to include them in our written work.
RE
Ourselves: We are made in the image and likeness of God
Life Choices: The call to life and love in the community - marriage
Hope: Advent is the Church's season of waiting in joyful hope for the coming of Jesus, the promised One, at Christmas and at the end of time
History
The rise of Nazi Germany in the 1930s
Science
Earth and Space and Forces
Design and Technology
PE
Ball skills and agility working on reaction and response. Dynamic balance on a line and counterbalances with a partner.
Computing
Computing systems - developing an understanding of computer systems and how information is transferred between systems and devices.
Creating Media – learning how to create short videos in groups. As they progress through this unit, the children will be exposed to topic-based language and develop the skills of capturing, editing, and manipulating video.
Music
Children learn what ballads are, how to identify their features and how to convey different emotions when performing them. Using an animation as inspiration, children carefully select vocabulary to describe the story, before turning them into lyrics by incorporating rhyming words and following the structure of a traditional ballad.
PSHE / RSE
Physically becoming an adult is a natural phase of life. Lots of changes will happen during puberty. God calls us to love others