Year Two
Mrs Senior is the teacher in our Year Two class. Mrs Hinchliffe teaches on a Tuesday morning and all day Thursday. Our PE day is Thursday.
Class Saint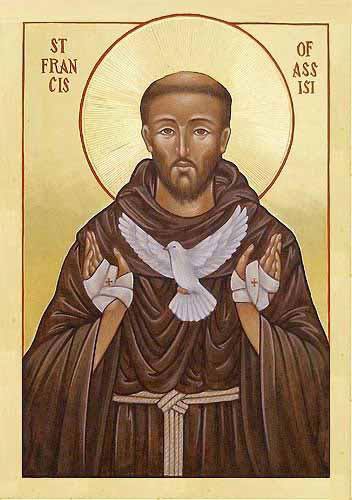 St Francis of Assisi. The Patron Saint of Animals and Ecology. Feast day is 4th October.
St Francis was a man of wealth and business who had a dream that God told him he had it all wrong. St Francis became a man of God who gave up all his possessions and began to preach. Others joined his simple life. St Francis had a deep relationship with nature - he felt all of God's creation was part of his brotherhood. He wrote the beautiful Canticle of the Sun that expresses this brotherhood with creation.
St Francis of Assisi, pray for us.
Autumn Term Curriculum Overview
Maths
Place value: Count to 100 by making 10s. Recognise tens and ones. Partition numbers to 100. Count in 2s, 5s, 10s and 3s.
Addition and Subtraction: Addition and subtraction bonds within 10. Bonds to 100. Add three 1-digit numbers. Add to the next 10 and across 10. Subtract across 10. 10 more and 10 less. Add and subtract two 2-digit numbers.
Shape: Sides and vertices of 2D shapes. Lines of symmetry. Faces, edges and vertices of 3D shapes.
English
Main book focusses will be "Dear Greenpeace" by Simon James, "The Snail and the Whale" by Julia Donaldson, "The Great Kapok Tree" by Lynn Cherry, "The Tin Forest" by Helen Ward and "Tidy" by Emily Gravett. Linked work will include letter writing (informal and persuasive), information text, narrative and a book review
RE
Beginnings: God is present in every beginning
Signs and Symbols: The signs and symbols used in Baptism
Preparations: Advent is four weeks of preparation for the birth of Jesus at Christmas
History
Local history - The Sheffield steel industry
Science
Everyday materials and their properties
Design and Technology
PE
Multisport
Computing
IT around us
Music
Identifying pulses in music
PSHE / RSE
You are created by God out of love and for love